Saturday, December 20, 2014 ∼ 7:00 PM
Sunday, December 21, 2014 ∼ 7:00 PM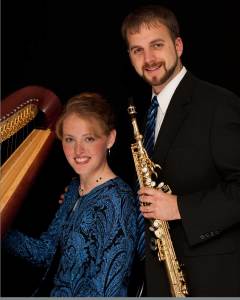 Seth Custer, Saxophonist
Moriah Custer, Harpist
Ministering in churches, camps, and conferences around the country, Seth and Moriah Custer teach and perform, presenting various combinations of saxophone, harp and piano music. During the school year, they reside in Greenville, SC, where Seth teaches theory, composition, and saxophone at Bob Jones University. Moriah has recently completed her undergraduate degree in piano performance, and remains active as a teacher and performer.
Christmas Dinner
Saturday, December 20
5:30 pm
Menu: TBD
$5.00 per person or
$18.00 per family
Please call for reservations
248-689-4555
About the presentation …
What sweeter music can we bring than a joyous carol
for to sing the birth of this, our heavenly King?
Awake the voice, awake the string!
Robert Herrick, 17th c. Poet
"What Sweeter Music is a sumptuous feast of fifteen English, German and French carols plus several new songs … The joyous Opening Medley sets the stage for the many exceptional moments to come, from the powerful new setting of the Magnifcat for soprano solo to the charming Cradle Medley, which features children's voices. This cantata provides sensitive underscoring to continue the musical flow between movements as male and female narrators share the beloved Christmas story. To add to the festivity, the congregation will join the choir to sing in several of the carol medleys."   — the Publisher
What Sweeter Music is presented by the Choir & Orchestra of First Baptist Church of Troy under the direction of Pastor Steve Allen.
What Sweeter Music is written by Mark Hayes and published by the Lorenz Corporation.
Nursery provided for children 4 years old and under.