Saturday, December 19, 2015 ∼ 7:00 PM
Sunday, December 20, 2015 ∼ 7:00 PM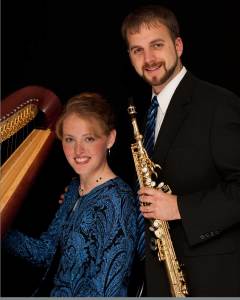 Seth Custer, Saxophonist
Moriah Custer, Harpist
Ministering in churches, camps, and conferences around the country, Seth and Moriah Custer teach and perform, presenting various combinations of saxophone, harp and piano music. During the school year, they reside in Greenville, SC, where Seth teaches theory, composition, and saxophone at Bob Jones University. Moriah has recently completed her undergraduate degree in piano performance, and remains active as a teacher and performer.
Christmas Dinner
Saturday, December 19
5:30 pm
Menu: TBD
$5.00 per person or
$20.00 per family
Please call for reservations
248-689-4555
About the presentation …
The inspiration for this cantata was Christina Rossetti's poem, Love Came Down at Christmas. What a perfect phrase to describe the very essence of Christmas! First published in 1885, this remarkable lyric has survived the ages without being attached to a specific tune. … Much of the material in this cantata is original, though you will find many familiar carols and Christmas favorites woven into its fabric as well.   — Joel Raney
Love Came Down at Christmas is presented by the Choir & Orchestra of First Baptist Church of Troy under the direction of Pastor Steve Allen.
Love Came Down at Christmas is written by Joel Raney and published by the Lorenz Corporation.
Nursery provided for children 4 years old and under.